It's no secret that the Paringa Estate vineyard, in the cool climate sub-region of Red Hill, is a very special site, with a unique microclimate.
North facing, on ten acres of rich, red, un-irrigated volcanic soil, it's at an elevation of 140 meters. It curls around the slope like an amphitheater, sheltered and warm, protected from south and southwesterly winds.
The vineyard has a unique trellising system in a 'U' shape known as the 'Lyre.' The steel frame, which supports each vine, allows air to circulate, and sun to penetrate the canopy, which in a region with high disease pressure, helps produce high quality fruit.
Owner Lindsay McCall began planting the property in 1985. Whilst he has experimented with different varieties over the years, the estate vineyard is now planted with mature vines of pinot noir, shiraz, chardonnay and pinot gris. He also leases five vineyards around the Mornington Peninsula planted with these varieties, and a few others. The Callanans Road Vineyard has a small riesling block, and the McCabe site, viognier. Lindsay recently took over the lease of the Hawkins Hill Vineyard, where he has planted two new pinot noir clones, 667 and Abel.
In 2015, Lindsay bought the property next door to plant more vines and expand the winery infrastructure. In spring 2016, the first Abel clone pin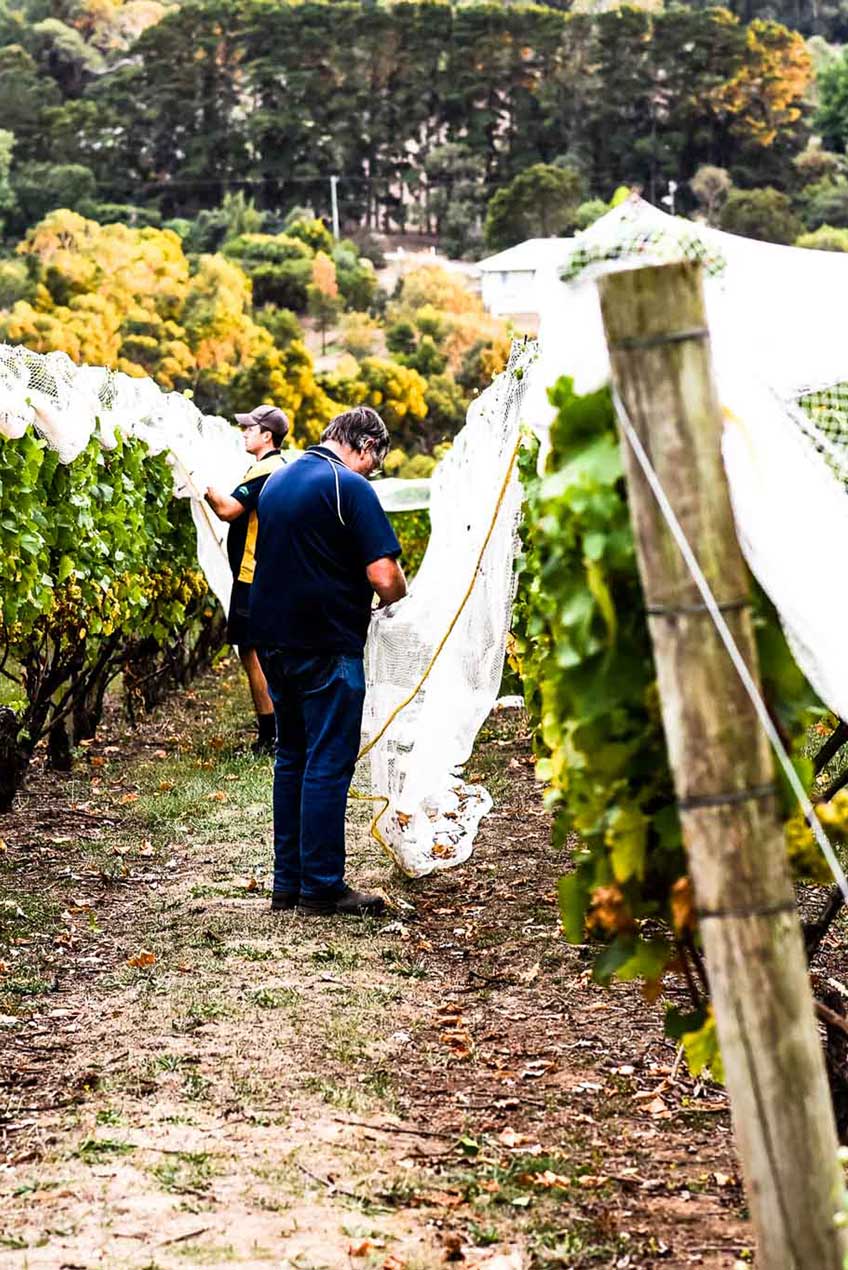 The early years at Paringa were pioneering times. Until the construction of the winery in 1998, Lindsay made his wines in a shed. His first vintage was in 1987. One ton of fruit was forecast, so he bought an old milk vat to ferment it in. The ton turned out to be a mere 140 kilo, so he dusted down an old fish tank to use that had been stashed in the garage!
The first commercial vintage at Paringa was a year later, with a yield of three tons out of which Lindsay made around 200 dozen bottles. By vintage 2000, production had grown to 78 tons of fruit.
Vintage 2018 is the biggest on record with an astounding 380 tons crushed!
The current winery was built in 1998 on the site of the original shed, where Lindsay made the first ten vintages.
The building has two sections. The barrel room, built partly below ground level, houses around 300 barriques of wine from our finest blocks of vineyard. The fact that it is underground, allows the wine to age at a stable temperature throughout its maturation time in oak, and minimizes losses that may occur through evaporation, which in turn can lead to oxidation or spoilage of the wine.
We use a variety of coopers for our wines; Saint Martin and D'Aquitaine for our chardonnays, Francois Freres, Saint Martin, D'Aquitaine, Ramond for our pinots and Bossuet for our shiraz.
The other section is used as a multi-purpose area, where equipment is moved around according to what's happening in the winery. During the winter and spring months, it is largely used as quiet barrel and wine storage area.
The building also hosts several annual events, including a jazz concert at the June Winter Wine Weekend and the annual back vintage sale on the first Sunday in December. During vintage from January to April, the space becomes a bustling fruit processing and fermentation area. Quite a sight to behold from the spectacular view through the restaurant's full-length windows!
Just below these windows lie our three beautiful 3,500L French oak foudres. These recent additions to the winery provide us with a unique vessel to ferment our single vineyard Pinot Noir and Shiraz wines; three separate, distinctive blocks of each variety, each fermented separately in its own foudre.