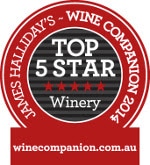 Winemaker Summary
Schoolteacher-turned-winemaker Lindsay McCall has shown an absolutely exceptional gift for winemaking across a range of styles, but with immensely complex Pinot Noir and Shiraz leading the way. The wines have an unmatched level of success in the wine shows and competitions Paringa Estate is able to enter, the limitation being the relatively small size of production of the top wines in his portfolio. Lindsay's skills are no less evident in contract winemaking for others. But time has passed and son Jamie, joined the winemaking team in 2012, after completing a winemakingand viticulture course at the University of Adelaide. He was put in charge of winemaking at Paringa in '17 following five home vintages, and one in Oregon, focusing on pinot noir. Exports to the UK, Canada, Denmark, Ukraine, Singapore, Hong Kong, China and Japan. Winery of the Year, 2007 Wine Companion.
"Lindsay McCall is a magician at work"
Wine Ratings
The Paringa Single Vineyard Pinot Noir 2018
Structured, powerful and long. All you really need to know is that this bristles with quality. It's tangy and it's not sweet butit's powered by concentrated strawberry notes. It also floats herb notes throughout and races with dry roasted spice characters. Orange oil, or something like it, adds a lifted, flowery note. It's pure quality and class.
Rating 97 To 2029 CM
The Paringa Chardonnay 2018
A powerful wine but, most importantly, it's also a balanced one. It doesn't lean heavily on any one area despite the amount of juicy stone fruit flavour and attachment of smoky, cedary oak. There are whispers of flint, fennel and fig but for the most part it operates on sure firm rails from start to finish. Its best days are a couple years away.
Rating 95 To 2027 CM
The Paringa Shiraz 2018
Leans toward black pepper rather than white. It has elements of reduction but its tones remain woody, walnutty and smoky. Its core is run with black cherry, its acidity is nestled, its tannin firm without causing any bumps. Balance is its middle name, persistence its surname. Cellar with confidence
Rating 95 To 2035 CM
Robinson Pinot Noir 2018
A succulent, sweet, smoky display of boysenberry, garden herbs, blood orange and woodsy spice. Medium weight in a varietal context; subtle of tannin; a twigginess to the aftertaste. It's neither a profound nor a forced wine but we get an array, a display, a touch of intrigue. It satisfies. Rating 94 To 2026 CM
Estate Pinot Noir 2018
I love the concentration of this; the focus. It has purity in its sights and it never wavers. It has cedary oak but the finish intensity of the fruit and the near-casual inflections of spice keep everything directed towards the fan of the finish.
Rating 94 To 2027 CM
Estate Shiraz 2018
There's a splash of white pepper but essentially its a fruit driven, attractively textured, mid-weight red with cherry-plum flavours un the driving seat. Peppercorn notes and spice-shot tannin finish things off nicely. Not a foot wrong.
Rating 94 To 2028 CM
Peninsula Chardonnay 2019
Oak rears at first but it soon settles into fine drinking form. Stone fruit, custard apple and cream caramel characters burst confidently through the palate and on to the finish.
Rating 93 To 2026 CM
Peninsula Shiraz 2018
A fluid, spicy, meaty shiraz with cherry-plum flavours washing attractively throughout and undergrowth notes sliding beneath. You could say that it's built on acidity but there's so much going on that you could say that it's built on many things. Lovely red to drink. Rating 93 To 2027 CM
Estate Pinot Gris 2019 *
It's not a complicated or complex gris but it remains fresh and lively as it pours on the flavour. It tastes of orange, sweet apple, pear, ginger and citrus and as it breathes the flavours seem to just come out more and more. Rating 93 To 2022 CM
Peninsula Pinot Noir 2019
We're in business here. This set off the value meter straight away. Cherry-plum flavours with licks of spice, a slight toastiness, excellent fruit purity and a decent sling to the finish. Fresh, complex-enough and more. Delicious drinking.
Rating 93 To 2025 CM
Estate Riesling 2019
A dry, slatey, almost reductive style with citrus and saline notes shooting through to a sustained, blossomy finish Rating 92 To 2023 CM
* denotes a wine "considered to offer special value for money"
All wines in the 2021 Wine Companion were reviewed by Campbell Mattinson