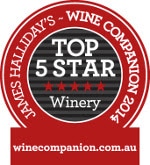 Winemaker Summary
Schoolteacher-turned-winemaker Lindsay McCall has shown an absolutely exceptional gift for winemaking across a range of styles, but with immensely complex Pinot Noir and Shiraz leading the way. The wines have an unmatched level of success in the wine shows and competitions Paringa Estate is able to enter, the limitation being the relatively small size of production of the top wines in his portfolio. Lindsay's skills are no less evident in contract winemaking for others. But time has passed and son Jamie, joined the winemaking team in 2012, after completing a winemakingand viticulture course at the University of Adelaide. He was put in charge of winemaking at Paringa in '17 following five home vintages, and one in Oregon, focusing on pinot noir. Exports to the UK, Canada, Denmark, Ukraine, Singapore, Hong Kong, China and Japan. Winery of the Year, 2007 Wine Companion.
"Lindsay McCall is a magician at work"
Wine Ratings
The Paringa Single Vineyard Chardonnay 2021
The high acid year has favoured the suite of chardonnays, resulting in a finely tuned and tighter than usual The Paringa Chardonnay. No shrinking violet though - packed with stone fruit, grapefruit and Meyer lemon and a powder puff of spices, honeycomb and malt. Savoury, long and detailed, even lipsmacking. Classy stuff.
Rating 96 To 2031 JF
The Paringa Single Vineyard Pinot Noir 2021
The Paringa has a reputation for being a powerful pinot noir, no doubt about it, but sometimes, a vintage offers up this wine with comparatively more restraint and vibrancy thanks to acidity. It's rich and detailed, full of dark cherries, blood orange, amaro and a smoky, twiggy character. Full bodied with densely packed tannins a little raspy but detailed and juicy. Should cellar very well.
Rating 96 To 2035 JF
Estate Rose 2022
This ticks all of my rose boxes. As in, it's bronze-pastel pink hue, fragrant with ginger flowers and roses, dry yet flavoursome and full of texture. There's clean acidity throughout and it freshens up the palate preparing it for the next sip.
Rating 95 To 2025 JF
Estate Chardonnay 2021
This is altogether racy and superfine - no mlf, so in its own way it feels lighter, certainly against flagship The Paringa. Still plenty of flavour and texture via monthly lees stirring in French oak puncheons. The finish is long and persistent, and as usual, it has that savoury, moreish factor.
Rating 95 To 2031 JF
Robinson Vineyard Pinot Noir 2021
Swooning stuff with rosehip, cherries, baking spices, blood orange and glace citrus too; complex and detailed with forest floor and general autumnal aromas. The just shy of full-bodied palate is still settling with the tannins and acidity jostling for pole position. Give this breathing space or more time in the bottle.
Rating 95 To 2036 JF
Estate Pinot Noir 2021
Not a shy and retiring wine, but by golly this is good. Full of forest floor and menthol aromas, flavours of dark cherries, rhubarb, chinotto and blood orange with lots of refreshing acidity but also plenty of tannins. Fuller bodied, firm and forceful yet the fruit is sweetly flavoured across the palate. There's a lot going on in this wine.
Rating 95 T 2033 JFs
All wines in the 2024 Wine Companion were reviewed by Jane Faulkner.